Events
Cerrillos Hills State Park offers a full range of recreational, educational and nature-based programs held throughout the year. Activities include native grass & wildflower hikes, bird watching, landscape photography, geology, snakes, high desert animals, star gazing, lunar facts and lore with the ranger & talented guest speakers.
From cultural and historical facets, to natural history and traditional programs, you're invited to learn, to play and to enjoy! We encourage families, friends and youth to enjoy the great outdoors. Get updates in your inbox on Park events! Just drop a line to peter.lipscomb@state.nm.us. We never share or sell your e-mail.
For more information about any of the events listed below, please contact the Cerrillos Hills State Park at (505) 474-0196.
Movie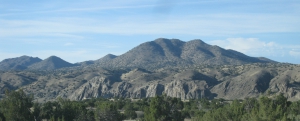 Thursday - June 01, 2023
Cerrillos Amigos would like to share a video we think everyone would enjoy. In the Mining History of the Cerrillos Hills, historian Bill Baxter describes the beginnings of the area's first mines. Cerrillos Hills State Park contains a little over 5 miles of trails and is located on the southern edge of the Cerrillos mining district.
Mining History of the Cerrillos Hills - YouTube
Amigos Fundraiser - Visitor Center
Tuesday - July 04, 2023
The Amigos De Cerrillos Hills State Park kick off July 4th with a Community Picnic of Grilled Hot Dogs - Watermelon - Lemonade - Live Music - Author Readings and Kids Arts & Crafts. Join us for a Family Fun Day at the Visitor Center from 12pm - 3pm.
Amigos Fundraiser - Visitor Center
Saturday - August 19, 2023
The town of Cerrillos hosts their annual Town Wide Yard Sale with booths and tables of antiques, collectibles, tools, kitchen ware, house hold, art, food and treasures scattered through the town streets. Stop by the tables that benefit the Amigos de Cerrillos Hills State Park and the Las Candelas de Los Cerrillos community organization. Held in the town of Cerrillos, New Mexico. Parking is available on Railroad behind the State Park visitor center. Weather permitting from 9am - 4pm

For more information Pat Brown (505) 438-3008.
http://www.cerrillosnewmexico.com