Events
Cerrillos Hills State Park offers a full range of recreational, educational and nature-based programs held throughout the year. Activities include native grass & wildflower hikes, bird watching, landscape photography, geology, snakes, high desert animals, star gazing, lunar facts and lore with the ranger & talented guest speakers.
From cultural and historical facets, to natural history and traditional programs, you're invited to learn, to play and to enjoy! We encourage families, friends and youth to enjoy the great outdoors.
Get updates in your inbox on Park events! Just drop a line to peter.lipscomb@state.nm.us. We never share or sell your e-mail.
NOTE: Follow this link to subscribe to Park events http://eepurl.com/NEWI9
For more information about any of the events listed below, please contact the Cerrillos Hills State Park
(505) 474-0196.
Amigos Fundraiser - Visitor Center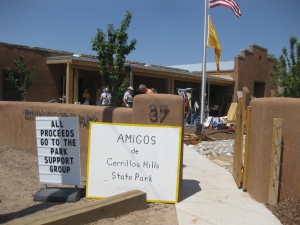 Saturday - August 19, 2017
The town of Cerrillos hosts an annual town wide yard sale event. There are booths and tables of treasures scattered through the town. Sales tables benefiting the Amigos de Cerrillos Hills State Park are at the park Visitor Center.
Special event open 9-4pm
Cerrillos Hills State Park Visitor Center - 37 Main Street, Cerrillos, NM. Approximately 16 miles south of Santa Fe and 3 miles north of Madrid via NM 14. Take County Road 57 west into Cerrillos village.