Events
Cerrillos Hills State Park offers a full range of recreational, educational and nature-based programs held throughout the year. Activities include native grass & wildflower hikes, bird watching, landscape photography, geology, snakes, high desert animals, star gazing, lunar facts and lore with the ranger & talented guest speakers.
From cultural and historical facets, to natural history and traditional programs, you're invited to learn, to play and to enjoy! We encourage families, friends and youth to enjoy the great outdoors. Get updates in your inbox on Park events! Just drop a line to peter.lipscomb@state.nm.us. We never share or sell your e-mail.
For more information about any of the events listed below, please contact the Cerrillos Hills State Park
(505) 474-0196.
Hike - Night Program - Visitor Center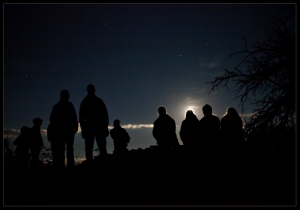 Friday - October 19, 2018
On this guided hike, learn interesting lunar facts, folklore and enjoy close-up views of the moon through our spotting scope. If forecast information is correct, weather should be warmer with clear skies by Friday.
Meet at the main park entrance, 1/2 mile north of Cerrillos Village on County Road 59. $5 per vehicle exact change cash or check. Free with a valid New Mexico State Parks pass.
Amigos Fundraiser - Visitor Center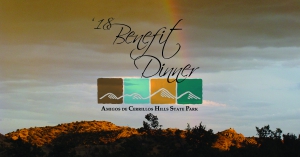 Saturday - October 20, 2018
The Amigos de Cerrillos Hills State Park are holding a benefit event on October 20. The proceeds of this event will be used for two of our projects. First, the school class park visitation program in which we provide funds for school busses to transport classes to the park for educational programs. Second, the Cerrillos Park Plaza project in which we are improving the large area east of the Visitor Center to enhance the park visitor experience. So far this year we have purchased two picnic tables which are regularly used and participated in planting trees to provide a shade walk-way on the south side of the area. We need more funds to develop pathways for easy access to the picnic tables and shaded walkway as well as to purchase bench seats.
The benefit event will start at 3:30 p.m. with an assembly and mingling event leading up to a 4:00 p.m. presentation by Ms. Christy Tafoya, the Director of New Mexico State Parks. She will discuss the plans and status of the Rio Grande Trail, a multi-agency project to develop a trail across the state in proximity to the Rio Grande. She will also talk about other pertinent issues in the State Park System.
At the conclusion of Director Tafoya's presentation we will adjourn to the St. Joseph's Parish Hall where dinner will be served. Prior to the dinner you will have an opportunity to participate in a Silent Auction. We have donations from several restaurants along Highway 14, from REI, and from a number of other sources including four 17" by 24" pictures of nebulae by our astronomer/park manager Peter Lipscomb. Dinner will be BBQ Chicken, baked Beans, Potato Salad, Rain Forest Coleslaw, Apple Cobbler, rolls and beverages. After dinner, the Silent Auction will close before dessert is served.
Tickets for this benefit event are $30 per person and must be purchased in advance so we have an accurate count for the dinner. Tickets may be purchased by check or cash at the Visitor Center from 2 to 4 PM each day, or send checks to ACHSP, P.O. Box 460, Cerrillos NM 87010, or leave payment with Pat Brown at the Mining Museum in Cerrillos.