Amigos Fundraiser
Visitor Center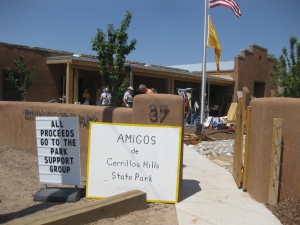 Saturday - August 19, 2017
The town of Cerrillos hosts an annual town wide yard sale event. There are booths and tables of treasures scattered through the town. Sales tables benefiting the Amigos de Cerrillos Hills State Park are at the park Visitor Center.
Special event open 9-4pm
Cerrillos Hills State Park Visitor Center - 37 Main Street, Cerrillos, NM. Approximately 16 miles south of Santa Fe and 3 miles north of Madrid via NM 14. Take County Road 57 west into Cerrillos village.